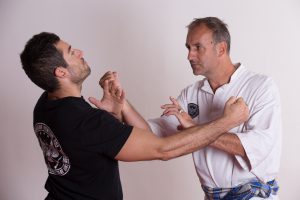 Walter van den Broeke
Walter van den Broeke – biography
Born on 24th of May 1963 in Breda, Netherlands.
My Pentjak Silat journey began in an art known as Pukulan back in 1978 with one of the assistants of Pak W.L. Flohr. After several years of training I had the opportunity to train directly under the guidance of Pak W.L. Flohr, this was towards the end of 1981. The training with Pak Flohr was hard, relentless and every single day of the week from 10 am to 10 pm, Saturday's included. Only on Sundays did we have a reprieve and only trained from 10 am to 12pm. At that time I stopped my school education and didn't have a job so I could spend all my time training. I remember Pak Flohr as a caring teacher, hospitable, grand, extremely respectful towards others and a father figure to all his students. He will always be my "Bapak Pencak".
I wanted to explore silat through various styles which brought me to Mande Muda which I trained from 1986-1990 under the guidance of Pak H.S.Tulalessy, a direct student of Pak Ujuh Suwanda. After Mande Muda I went back to Pak W.L. Flohr and trained about 2 more years. After that it was time for me to stand on my own two feet and truly understand what he had given me. There was a fountain of knowledge waiting to explode, I just had to open my eyes and internalize what was taught. Pak W.L. Flohr passed away in 1998. I tried to find a teacher who could teach me more of the art of Pukulan. The search was endless, but it brought me into contact with many teachers. None were equal to the level Pak W.L. Flohr in all the aspects of silat. I even spent a year training and learning in Indonesia, this was in 2002.
When I returned to Holland, a friend of mine introduced me to the de Vries family. They brought me into the art of Serak and strangely enough I saw this before (same principles, timing, langka etc) in my time with Pak W.L. Flohr. with the information the fam de Vries gave me, I could now understand, internalize and realize the training I hade with Pak W.L. Flohr. In the early part of 2010 I had been in contact with students of uncle Paul De Thouars. We spent a very long time emailing back and forth getting to know each other. Then we planned for a personal visit.
After that visit in January 2011 uncle Paul took me into his group of Serak students. He taught and trained me in the ways of his teacher uncle John De Vries. It was an instant connection with uncle Paul, his group of students and his way of performing Serak. His depth and insight in the art was astounding. As I have seen him and trained many hours with him, its amazing to see his progression. You can certainly see that over the years uncle Paul has improved his skill decade after decade. Its clear, he is studying his art with no end in sight. I have seen progression of his art even since I have known him and its amazing. I see in uncle Paul what I once saw with Pak W.L. Flohr, a caring and loving teacher, a great personality and a man with great knowledge.